Random Bites of Autumn Deliciousness
I haven't created many unique and stellar recipes this past week … in fact, since we have been quite busy, I have been enjoying simplicity a bit. Don't worry, this isn't just a "what I ate" post. Think of it like a collection of mini recipes.
Lunch all week has been two poached eggs atop whatever vegetables need to be eaten most urgently. But, I did fit in a "new to me" veggie. What could that be nestled in that pile of cabbage? …
Why kabocha squash of course! I finally gave into the food bloggie peer pressure (and the fact that organic kabochas were on for $.49 a pound!). Since I was a kabocha virgin, I didn't experiment, I used this tested recipe for Japanese Style Simmered Sweet Kabocha. I didn't have dashi, so I just used water, and it still came out delicious! The only thing I couldn't figure out was if I was supposed to cover the pan as it cooked. I did, and ended up with tons of liquid left, so if you try it, don't cover. I ate the squash skin and all (my first time for that too!) and it was wonderful.
For some reason, I was obsessed with making a Pumpkin Pecan Pie Spread for our morning rice cakes. After three mornings of trials, I was satisfied, but never did get what I would call perfection. Nonetheless, since the husband was getting a bit burnt out on pumpkin, I called it a day. Here is where I left off …
2 Tablespoons Pecan Butter (I used some Artisana I was trialing, but you can also make your own)
1/4 Cup Pumpkin Puree
1 to 2 Tablespoons Maple Syrup (I took the middle ground with 1-1/2)
½ Teaspoon Pumpkin Pie Spice
Generous Pinch of Salt
Protein Powder (optional)
In a small bowl, whip it all together. If desired, stir in protein powder to your desired taste and consistency. I like to add a little egg protein powder; it also thickens it up a bit.
This spread really is so simple that you could easily customize it to your tastes by tweaking an ingredient or two, or even simply subbing the maple syrup for your sweetener of choice. This yielded enough for four rice cakes, two each, perfect!
Now, for my sweet treats of the week, I seemed to have a bit of a graham cracker obsession … cinnamon graham crackers to be specific …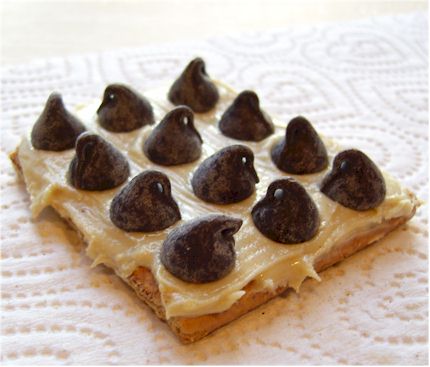 This is nothing more than a cinnamon graham topped with lusciously creamy cashew butter (seriously, this stuff is like frosting!) and semi-sweet chocolate chips. Mmmm.
But the following may have even topped that one …
Maple-Pecan Graham-wiches
1 Tablespoon Pecan Butter (would probably be awesome with any nut butter!)
1/2 Tablespoon Maple Syrup
1 Teaspoon Coconut Oil or Coconut Butter, melted
2 Whole Cinnamon Graham Crackers (each broken in half, so you have four squares)
Combine the nut butter, maple, and coconut oil or butter in a small dish. Refrigerate it for just a few, allowing it to thicken just a bit as the coconut oil cools and solidifies. Top two cinnamon grahams (cinnamon-side up) with the butter, top with remaining graham. Enjoy the oozing goodness.
If you don't like messy sandwiches, try this snack open faced.
Hopefully you have found some delicious inspiration amongst this haphazard post! I have just a few quick shout-outs to end with.
Thank you to All Access Pass to Jack for the Lemonade Award. I will have to pass this on very soon!
Zesty is having another blog makeover giveaway! I want to win so bad that I am telling you all to enter just to get myself one more entry. Logical?
I have another big giveaway coming up too. Stay tuned, it will be up in just a couple of days! (I have to go write it up now).
Oh yes, and Happy Halloween!!