Giveaway: Win $25 in Natural Food Groceries! …
… and we aren't talking just any old groceries here. Oh no, try a free $25 gift certificate to the online grocer, Navan Foods (with free shipping included, of course!). Oh wait, did I say "a" gift certificate; lets go for two, shall we? Yes, two people will win a $25 e-gift certificate for Navan Foods with free shipping included!
So, who is Navan Foods? They are an awesome specialty food grocer, offering simple shopping both in store (walk right into their Virginia Beach location) and online (they ship throughout the United States). Navan Foods touts itself as "The Allergy Free Food Shop," but they offer so much more. Their easy to use online market allows you to shop not only by allergens (no peanuts, milk, eggs, or soy? no problem) but also by various dietary requirements, including gluten-free, vegan, organic, kosher, diabetic-friendly, low fat, and the Feingold stages. Seriously, this is the best designed website for an online grocer I have ever seen.
Of course, since I can't win, I spent way too much time searching the Navan Foods' site to see what I would pick with a $25 gift certificate … and may now just have to buy! My list includes:
Road's End Chreese Mix and Shiitake Mushroom Gravy Mix (based on Sarah's recommendation)
MimicCreme Unsweetened (dying to try this nut-based "cream")
Natural Desserts Unflavored Jel Mix (looks like fun to experiment with)
Enjoy Life Boom Choco Boom Rice Milk Bar (another one on my "must try" list)
Arico Ginger on Fire Cassava Chips (love these, nice change of chip pace)
Enjoy Life Snickerdoodle Cookies (soft, chewy heaven) … and …
Sunspire's Vegan Carob Chips (my latest addiction) or Ricemellow Creme (another curiosity)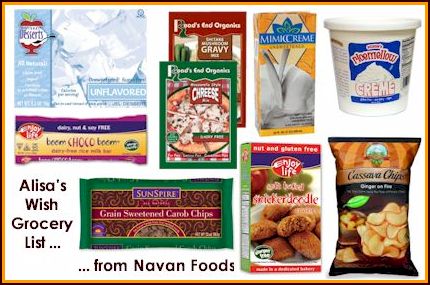 So, you probably want to enter to win, no? I wouldn't leave you hanging.
To enter just …
Leave a comment on this post, and let me know either, what item(s) you would be most excited to purchase from Navan Foods with your e-certificate or vent about a food you love or want to try, but have had a heck of a time finding. 
To enter twice …
If you have a blog or if you twitter, let others know about the giveaway with a mention and link to this post for a second entry!
Since a holiday weekend is upon us, the comments section will be open for entries through tax day, Wednesday, April 15th. Two winners will be selected at random on the 16th, so get your entry in … now!  (Update: You now have until Friday, April 17th to enter, winner to be announced on the 18th!)
Good luck, and stay tuned to One Frugal Foodie … more inexpensive, easy recipes on the horizon.