Smoked Salmon Pasta Salad
I've gone back and forth over the years on smoked salmon. We enjoyed it weekly for a while, but then I learned about all of the additives and nitrate issues. Ugh. That knowledge ruins so many awesome-tasting foods, doesn't it? We were still enjoying some once in a while, but when I discovered the "salmon trimmings" at our local grocer, it was back on!
Not only do they only use hickory smoke and salt to cure their salmon, no other ingredients, but they also sell the "trimmings" for just $8 a lb (basically the leftovers when they cut pretty squares of the salmon). And let me tell you, a half a pound of salty smoked salmon goes a long ways. In fact, we find their salmon to be a bit too strong, so I've had to tone down the amount I use per serving.
My husband really liked the following pasta salad recipe, stating that the salmon added a nice flavor, but didn't overpower the dish at all. One thing I did discover though, vegan mayo doesn't work quite as well in pasta salads from an overnight standpoint. It was beautiful on the first day, but unlike "regular" mayo-based pasta salads, it didn't improve with age. The dressing got a bit thick. This was easy to remedy with a touch of added oil, and the dish did heighten in flavor by the next day.
If you want to keep the dish vegetarian / vegan, try using chickpeas in the mix instead of salmon. While it won't have that fishy flavor, the mixture of vegetables, pasta, mayo, and old bay is quite nice on its own!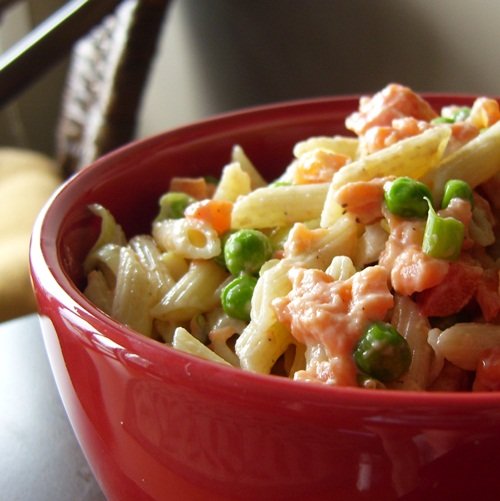 Recipe: Smoked Salmon Pasta Salad
Ingredients
8 Ounces Pasta, wheat-based or gluten-free (I used this Barilla Piccolini Penne; for gluten-free, we like TJ's corn-based penne)
1/3 Cup Mayo, vegan or regular (I used Earth Balance Mindful Mayo)
1/2 Tablespoon Lemon Juice
1 Teaspoon Old Bay Seasoning
1/8 Teaspoon Pepper
6 Ounces Smoked Salmon or Lox, diced into little flavorful morsels
1 Cup Peas, fresh or frozen and defrosted
1 Green Onion, sliced
1/2 Red Bell Pepper, diced (about 3/4 cup)
Instructions
Cook the pasta according to the package directions, and rinse it with cool water.
Whisk together the mayo, lemon, old bay, and pepper in a small dish.
Add the mayo mixture and all of the remaining ingredients to the pasta in a large bowl.
Serve, or cover and refrigerate until ready to eat.
Preparation time: 15 minute(s)
Cooking time:
Diet tags: Gluten free, Dairy free, Nut free, Peanut free, Sugar free, optionally Egg free, and optionally Gluten free
Number of servings (yield): 4
Copyright © Alisa Fleming.