Cajun-Roasted Root "Chips"
I see it all the time. The perfect baked "french fry" that the author swears is the method to make them crisp, followed by mixed reviews of "these were amazing!" and "they didn't work, not crisp at all!" And you know what, both sets of reviewers are right.
If there is one thing I've learned over the years it's that there are a lot of things that can affect a recipe, and this goes well beyond the ingredients and the oven temperature. Yes, there are methods … soaking, rinsing, coating, or none of the above … but the single most important factor, in my opinion, is climate. I've lived and recipe tested in them all. Dry as a bone deserts, high altitude, rusty towns by the sea, fertile valleys … and while some recipes will work pretty well everywhere, there is always at least a slight variance in the results.
Right now, we are in that rusty seaside town, and my nemesis is those darn crispy root vegetables. It took me a while to come to terms with the fact that roasting could only be done at very high temperatures, and even then, they just get a nice firm exterior with browning. There is just too much darned humidity!
So this simple little recipe may yield "chips" for you, but for me, they were soft and just roasted. I can't remember in what magazine I saw this "perfect chip" idea. They used some other root vegetable, but a similar one, and I wrote down the temp and cooking time, eager to give it a go. But alas, there was no crisping for me, not even a little bit.
Fortunately, whether or not these roots crisp up for you, they are darn tasty. I was lazy, I use a pre-mix of Cajun spices to make it even easier. So this is more like a recipe idea than a real recipe. But I'm all about sharing ideas, particularly when they use vegetables …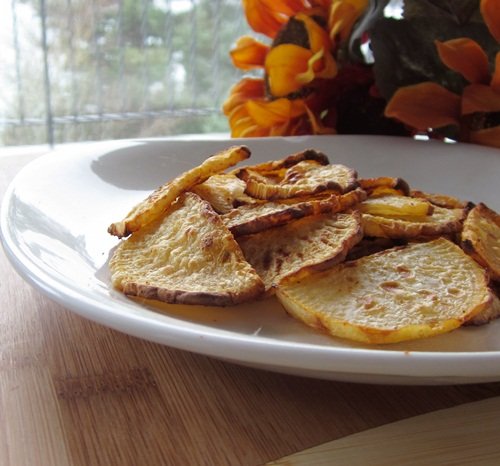 Recipe: Cajun-Roasted Root "Chips"
Summary: I used rutabaga, which has it's own unique taste. I'm experimenting more with this root, since it is fairly high in non-dairy calcium (14% for 10 ounces!). That said, it has a stronger flavor than some roots. I find parsnips, carrots, and sweet potatoes to have mellower and sweeter flavors, so you may want to start with those.
Ingredients
12 Ounces (3/4 lb) Root Vegetables, peeled or unpeeled (your choice)
1 Teaspoon Melted Coconut Oil or Olive Oil
1 Teaspoon Cajun Seasoning (mine had salt in it)
Instructions
Preheat your oven to 450ºF.
Slice the root veggies 1/8-inch thick or thinner if possible. This is a good time to own a mandoline (alas, I don't).
Toss the chips with the oil and coat them with the seasoning.
Spread them out on a cookie sheet or in a roasting pan, and place them in the oven for 25 to 30 minutes, turning halfway through.
Quick notes
Keep a close eye on these, particularly if you cut them by hand. Thinner parts may start to burn a little quickly and should be removed early.
If you have wire cookie racks or similar, you can place them on top of the baking sheet to allow the air to circulate under the chips, allowing for a more even cook/roast, and helping to prevent the moisture from locking in.
Preparation time: 10 minute(s)
Cooking time: 30 minute(s)
Diet type: Vegan, Vegetarian, Dairy free, Egg free, Gluten free, Nut free, Peanut free, Soy free, Wheat free, Sugar free, Low fat
Number of servings (yield): 2
Copyright © Alisa Fleming.