Smoked Salmon Frittata Bites
Surprise!!
Today we are honoring our good friend Amy of Simply Sugar & Gluten Free with a Virtual Baby Shower …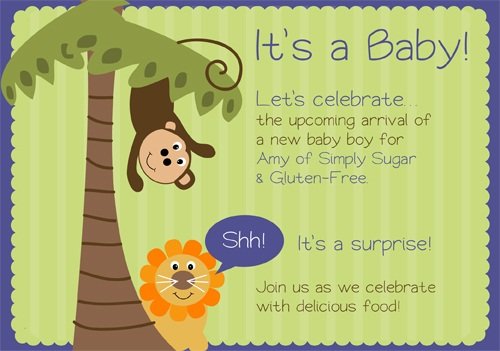 For my contribution to the shower, I went out on a limb, choosing something savory that doesn't involve any butter, cream, or cheese (hang with Amy, you are still going to love it, I promise!). Nonetheless, these little frittatas are rich and packed with flavor.
Unfortunately, I didn't have any baby shower inspired props for decorating. But, I did my best to honor Baby Boy Green with some little blue plates that I actually won at a baby shower! That's themed enough, right?
Recipe: Smoked Salmon & Dill Frittatas
Summary: Unlike so many egg-based recipes, these little bites are dairy-free AND soy-free! If desired, you can make them larger in regular-sized muffin tins and serve them for brunch.
Ingredients
8 Eggs (organic if possible)
2 Ounces Raw Cashews, ground in a spice grinder
1/2 Cup Water
1/4 to 1/2 Teaspoon Salt, or to taste (see note)
1/4 Teaspoon Dry Mustard
1/4 Teaspoon Black Pepper
1/2 Teaspoon Dried Dill (use fresh if you can get it!)
1/4 Cup Minced Onion
3/4 to 1 Cup Finely Chopped Wild Smoked Salmon
Instructions
Preheat your oven to 400ºF and grease 64 mini muffin tins. I actually used silicone candy cups, which worked great – they popped right out! If you don't have 64 little tins, you can always make larger frittatas.
Place the eggs, ground cashews, water, salt, dry mustard, and pepper in a mixing bowl and beat for a minute to combine.
Whisk in the dill, onion, and salmon bits.
Spoon the mixture into the prepared mini-muffin tins, making sure to distribute the salmon and onion throughout. I fill them about halfway full. They do rise a bit, and I like them bite-sized.
Bake for 10 minutes, or until set.
Let them cool for 10 minutes, then pop them out to serve!
These can be made in advane and then reheated for a few minutes in a 300ºF oven.
Quick notes
The amount of salt you will need will depend on the saltiness of your smoked salmon. I used a fairly salty one with 1/2 teaspoon salt. They were devoured, but I definitely could have used a little less salt.
Preparation time: 10 minute(s)
Cooking time: 10 minute(s)
Diet type: Pescatarian, Dairy free, Gluten free, Peanut free, Soy free, Wheat free, Sugar free
Number of servings (yield): 12
Copyright © Alisa Fleming.
Congratulations Amy!
And don't forget to check out the other delicious recipes (all gluten-free and refined sugar-free!) for this Surprise Baby Shower by …
Hallie with Chocolate & Vanilla Pudding Parfaits
Maggie with Vegan Gingersnaps
Alta with Grapefruit, Avocado & Jicama Salad
Lexie with Dairy-Free Crepe Quiches
Kelly with Grain-Free Lime Pound Cake
Carol with Chocolate Raspberry Cupcakes
Cara with Mushroom Pesto Pinwheels
Ricki with Vegan "Wine and Cheese" Charlotte
Kim with Maple-Glazed Apple Cinnamon Squares
Silvana at www.SilvanasKitchen.com
Jen with Tomato Panzanella Salad
Cybele with Allergy-Free Focaccia
Helen with Cranberry Chicken Salad Surprise