Holiday Pumpkin Bread (Gluten-Free & Vegan)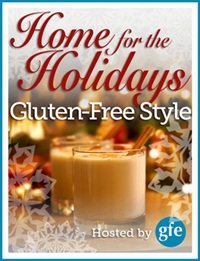 Even though I've never had a gluten-free holiday in the past, as the honorary dairy-free gal in the free-from foodie club, I was invited to join in on the Home for the Holidays: Gluten-Free Style event, hosted by Shirley at Gluten Free Easily. Truthfully, the timing couldn't be better, as by coincidence (seriously, this is just a coincidence) we will be having our first gluten-free and dairy-free Christmas this year.
Now, the idea of Home for the Holidays is to share a gluten-free recipe that says both "home" and "holidays" to me. I liked this concept, but honestly, I was a bit uncertain about what to post. With a small family scattered around five states / provinces, holidays have become less about tradition for my husband and I, and more about relaxing. While I definitely do not want to get rid of the relaxation part, I'm eager to "settle down" and inject a little more love into the season.  So I'm digging deep into my childhood memories, past the toys and gifts, to the things that truly meant the most to me at Christmas.
One wonderful memory that I have is my mother baking dozens of mini-loaves of pumpkin bread to give as gifts. It was a traditional present that she baked up every single year for friends and neighbors, and it filled the house with such warmth and an unforgettable sweet and spicy aroma. She was a bit of a perfectionist, so I wasn't allowed to help with the baking process, and thus had no "tried and true" family recipe to start with. Not to mention, with Tony on a gluten-free and egg-free diet, conventional recipes just wouldn't do.
I searched all around for egg-free, gluten-free pumpkin bread recipes, and found a few, but all of them were so different! Which one would work best, and what could I safely modify? It was all so overwhelming that I scrapped the lot and I winged it. That's right, sans recipe, I threw together a quick bread that is free of the top eight allergens and gluten-free to boot!
And you know what? It turned out fantastic on the first batch! Now that is something that doesn't happen very often. It must be the magic of the holidays.
Recipe: Gluten-Free, Egg-Free, Dairy-Free Perfect Pumpkin Bread
Summary: This pumpkin bread has a wonderfully tender (yet cohesive) crumb that hits the sweet spot in texture, not too moist, not too dry. I didn't get out of control with the sugars, so though it is dessert-like, it's also passable as a brunch-style treat. We loved snacking on it plain (especially when warm), or even slathered with some dairy-free margarine or nut butter.
Ingredients
1-1/3 Cups Brown Rice Flour (can use white rice flour if preferred)
1/2 Cup Potato Starch
1/4 Cup Tapioca Starch
1/4 Cup Buckwheat Flour
2 Teaspoons Xanthan Gum (can sub guar gum for corn-free)
2 Teaspoons Baking Powder
1 Teaspoon Baking Soda
1-1/2 Teaspoons Pumpkin Pie Spice
1/2 Teaspoon Ground Cinnamon
1/2 Teaspoon Salt
2/3 Cup Packed Brown Sugar or Coconut / Palm Sugar
1 15-ounce Can Pumpkin Puree
1/2 Cup Oil (grapeseed, coconut, canola, etc.; your choice)
1/2 Cup Pure Maple Syrup
1/4 Cup Water
1 Teaspoon Vanilla Extract
Instructions
Lightly grease and flour (I used a little brown rice flour) 4 mini-loaf tins, and preheat your oven to 325ºF.
In a medium-sized bowl, combine the flours, starches, xanthan gum, baking powder, baking soda, spices, and salt. Set aside.
In a large bowl, combine the sugar, pumpkin, oil, maple syrup, water, and vanilla.
Stir in the flour mixture until all is just combined. It actually becomes smooth quickly.
Divide the batter between your prepared tins, smoothing out the tops with the back of a spoon or spatula, since it will be a little thick.
Bake the bread for 45 to 55 minutes, or until firm to the touch. The bread should pull slightly away from the pan when done, and will be lightly browned, but a toothpick inserted may yield a few very small crumbs, so I didn't rely on the toothpick test.
Let the loaves cool for 10 minutes, before popping them out to cool completely on a wire rack.
Resist the urge to cut into these loaves while still hot. Like any bread, they will be a bit crumbly when hot, but firm up perfectly as they cool.
Quick notes
This recipe was baked at sea level. Note that egg-free AND gluten-free bread becomes trickier at high altitude. It may still work, but I haven't tested it as of yet. Also, you may need to add a little more liquid at high altitude or in very dry climates.
Variations
If desired, before baking, sprinkle the tops of the loaves with a little cinnamon and sugar or with coconut sugar, for a little extra crunch and sweet.
This recipe should work well as muffins (will make about one dozen) and as a large loaf (use a 9×5 pan). Since I haven't tested these, use your best judgment on the baking time. I would start with 22 minutes on muffins, and watch them from there. For a large loaf, it will probably take at least 60 to 70 minutes of baking time.
Preparation time: 15 minute(s)
Cooking time: 50 minute(s)
Diet type: Vegan, Vegetarian, Dairy free, Egg free, Gluten free, Nut free, Peanut free, Soy free, Wheat free
Number of servings (yield): 12
Copyright © Alisa Fleming.
GIVEAWAY TIME!
Note: This Giveaway is now closed, but you can still enjoy the recipe above!
I've got FIVE PRIZES to share, which means FIVE WINNERS (see below for the big bonus prizes for the event)!
The Gluten-Free Asian Kitchen
The Gluten-Free Diner eCookbook + Whole Gang Jumbo Tote


7 Quick Start Tips for Living a Healthy Gluten-Free Fit Life eCookbook (2 winners)
Delight Magazine Subscription
BONUS: By commenting to win on this giveaway, you will automatically be entered to win one of the GRAND PRIZES in the Home for the Holidays event:
The first prize is a top-of-the-line Vita-Mix professional blender 5200 Super Healthy Lifestyle package and a free copy of the super cool e-book Eat Fresh and Detox your Life (a $560 value!)
The second prize is a shopping spree from Free From Gluten (a $150 value!)
The third prize is a Caveman Cookies giveaway package (an $89 value!)
To Enter to Win:
Leave a Comment telling me which book(s) and/or subscription you would like to win AND one of your favorite holiday traditions.
 For a second entry, share this giveaway on facebook, twitter, your blog, or via email to friends, and leave a second comment telling me that you've shared it. Don't forget to leave this second comment for your second entry!
This giveaway is open to entries worldwide! The entries will close Tuesday, December 20th at midnight (PST), so enter now!
Note: If you want to join in on the Home for the Holidays event, feel free to grab the badge above and use it in your own gluten-free recipe post. Be sure to link back to the Home for the Holidays event page so that Shirley sees your post!