Pear-Almond Power Smoothie
I'm attempting to pack right now for a trip with some wonderful friends. Do you ever look at your closet and absolutely hate everything you own? I realize it will be a casual trip, one without expectations, without judgement, and certainly without having to look trendy. It's already been clearly stated that hoodies are welcome (Amen!). Still, nothing looks comfortable, nothing matches, and the last thing I want to have to pack for a three-day trip is five pairs of shoes.
So I'm procrastinating.
Of course, when I'm avoiding something I become hungry. Famished even. Time to head to the kitchen and fuel up.
Fortunately, we stocked up on organic pears this week (89 cents a pound for the organic ones people – recession / depression take that!), because my latest obsession is ripe pear and bananas in smoothies. Have you tried it? Seriously amazing. I got the idea from the new Thrive Foods book/cookbook by Brendan Brazier. Though some of his recipes are a little extreme in the expensive superfood arena for me, he escalated himself to master chef, in my opinion, when he paired flavors like these two fruits.
Naturally, since we are smack dab in the middle of fall, I had to add some more earthy flavors to the mix. I've got a big carton of Almond Fresh almond milk in the review works (to note: love it, it has a very pure almond taste), so I chose almond and "spice" (yeah, that means lots of cinnamon!) for my flavors of the day. It turned out so, so good. The only downfall was that my pear was just barely ripe, not quite soft and a little under-sweet, so I used stevia to sweeten. Should you find yourself in this predicament, stevia works great, but I think a little maple syrup would also go beautifully in this smoothie.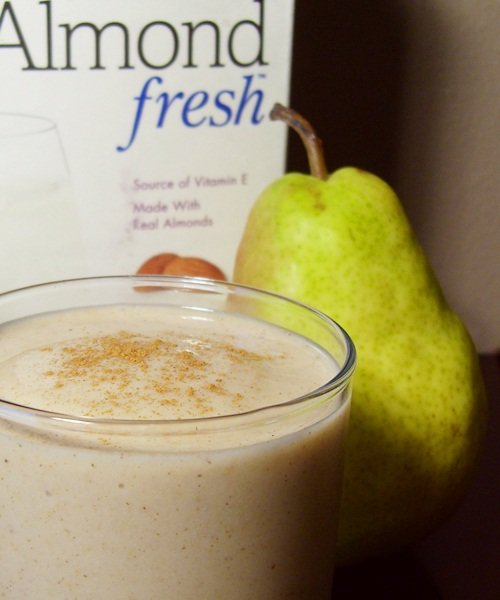 I hope you enjoy this nutritious smoothie as much as I do! Time for me to take a computer bread and stare at my dreadful clothes pack.
Recipe: Pear-Almond Power Smoothie
Summary: I call this type of smoothie a power smoothie, as it energizes me with natural sugars and fiber, but offers just enough balance in fats and protein to keep me from crashing. If you want even more fuel, feel free to add 1 to 2 tablespoons of your favorite plain or vanilla protein powder (egg or brown rice protein would be a great match). This recipe was inspired by Thrive Foods by Brendan Brazier.
Ingredients
1 Very Ripe Frozen Banana (medium to large in size), broken into chunks
1/2 Ripe Pear
1/2 Cup Unsweetened Almond Milk
1 Tablespoon Unsalted Almond Butter
1/4 Teaspoon Ground Cinnamon
Pinch Salt (omit if using salted almond butter)
Pure Stevia Extract or Maple Syrup, to taste
Instructions
Combine the banana, pear, almond milk, almond butter, cinnamon, and salt in your blender and puree until smooth.
Taste test, and blend in sweetener to taste, if desired.
Pour in a glass and sprinkle with additional cinnamon if you want it to be pretty.
Quick notes
If your blender is wimpy like mine, make sure the fresh fruit (pears in this case) is closest to the blades, with the frozen fruit on top. This allows those blades to get moving before they hit the tough stuff.
Preparation time: 5 minute(s)
Diet type: Vegan, Dairy-Free, Egg-Free, Gluten-Free, Peanut-Free, Soy-Free, Wheat-Free, Sugar-Free
Number of servings (yield): 1
Copyright © Alisa Fleming.