Sweet & Spicy Crisp Mix Recipe + Giveaway
After posting up this egg-free, dairy-free meatball recipe, the folks at WASA offered up a prize package for a giveaway, and who was I to say no? One of you will receive this fun loot:
The Cooking with Crispbread full-color, hardback cookbook
A cool WASA bag
Three boxes of WASA Crispbread, assorted flavors
To Enter: Simply comment on this post, and let me know if you have ever had crispbread and if so, your favorite way to eat it! I'll pick a winner on Wednesday, Oct 5th, so enter now!
Personally, I've enjoyed their crispbread with almond butter, in meatballs, and in this party mix recipe …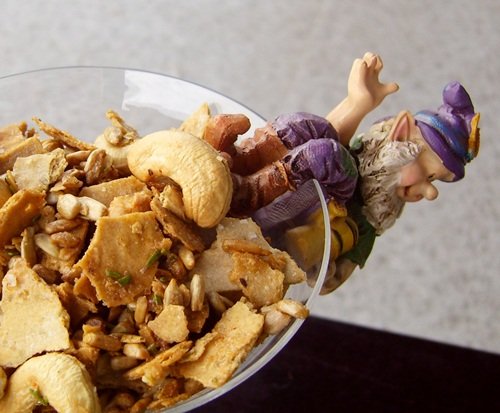 Party gnome approve. Hope you enjoy it too!
Recipe: Sweet, Salty, Spicy, Crispy Party Mix
Summary: This mix combines an array of textures and flavors for a little bit of everything. It isn't overly sweet or overly spicy as is, but you can certainly amp it up if desired. The flavors meld nicely when the mix is allowed to rest, so I make it earlty in the day or  night before and store in an airtight container. This recipe is adapted from the Cooking with Crispbread cookbook.
Ingredients
1-1/2 Cups Broken Crispbread Pieces (I used the Rosemary WASA)
1 Tablespoon Oil or Dairy-Free Margarine (I used coconut oil for a rich and buttery flavor without margarine)
3/4 Cup Seeds and Nuts (I preferred sunflower seeds in this; almonds, cashews, and pumpkin seeds go nicely also)
2 Teaspoons Brown Sugar
2 Teaspoons Honey, Maple Syrup, or Agave Nectar
2 Teaspoons Finely Chopped Fresh Rosemary
1/2 Teaspoon Salt
1/4 Teaspoon Cayenne (you can double it if you prefer the mix HOT, but this was enough heat for us)
Instructions
Preheat your oven to 400ºF.
Place the crispbread pieces and seeds or nuts on a baking sheet and spread them out.
Toast the crispbread and seeds or nuts in the oven for 5 to 7 minutes.
While that is toasting, melt the margarine or coconut oil and combine with the remaining ingredients.
Place the toasted crispbread mix in a large bowl, and while still hot, pour on the oil/spice mixture. Stir to coat.
The flavors meld more as it rests, so feel free to make a batch of this at night to enjoy the next day.
Preparation time: 10 minute(s)
Cooking time: 5 minute(s)
Diet tags: Vegan, Dairy free, Egg free, Peanut free, Soy free, optionally Nut free, optionally Gluten free (with a GF crispbread or crackers!)
Number of servings (yield): 6 snacks
Copyright © Alisa Fleming.