Cocoa-Crusted Macadamia Nuts
One of the joys of blogging is making friends with amazing people, and even meeting a few (in person!) whose work you've admired over the internet for what seems like ages. For me, one of those people was Amy Green. I got to chat with this sweet lady nearly a year ago (my how time flies!) and meet her face to face at the GFAF Expo earlier this year. Now that I know her personally, it is that much more fun to use her cookbook, Simply Sugar & Gluten Free. Knowing her voice makes me feel like she is right there in my kitchen as I read the recipes.
Some cookbooks I tag like mad with excitement, then set them down, never to return again. But Amy's was easy to dive into. The recipes are every day gems, with a definite slant toward baking. Granted, some of the recipes use dairy, but this isn't a milk-heavy cookbook, and most seemed easy enough to convert for me. Even so, I started with ones that were dairy-free as is, and wasn't a bit disappointed …
First up was the Slow Cooker Chicken and Wild Rice. The chicken came out so perfectly tender, but the surprise was really the rice. I used a wild rice blend from Lundberg, and it turned out like a really rich risotto! I enjoyed the brown and wild "risotto" for a light lunch the next day with broccoli. Doing just this rice and vegetable portion alone, would be an easy vegetarian crockpot meal if desired. The only change I made was to add a little garlic, and I doubled the mushrooms.
Next up was the Cocoa-Roasted Nuts. This is such a lovely and creative recipe! I love how Amy doesn't rely just on stevia to sweeten, but rather uses it in combination with other unrefined sweeteners for a pleasant flavor that isn't overpowering (as stevia alone can be). Amy uses almonds and egg whites in this recipe, which I didn't have on hand, so I made quite a few modifications. The version I ended up with was a little more than "cocoa" and almost bordering on dark chocolate. However, I was true to her flavors, which made for a snack that was just lightly sweet and salty, but rich with cocoa flavor. Below is my version, adapted from Amy's original. But, for a lower fat and more "polished" version, try the Cocoa-Roasted Nuts in Simply Sugar & Gluten Free.
To note, other scrumptious recipes that I have marked to trial (soon!) from this cookbook include the Banana Oat Bars, Buckwheat Blinis, Slow Cooker Ketchup, Ruthie's Apple Crisp, and the Grilled Balsamic Dijon Chicken.
Recipe: Cocoa-Crusted Macadamia Nuts
Summary: Recipe adapted from Simply Sugar & Gluten Free: 180 Easy and Delicious Recipes You Can Make in 20 Minutes or Less by Amy Green. Keep in mind, this is just a lightly sweet, lightly salty recipe – good for some cocoa antioxidants in snack form. For more of a dessert, I'd coat them in melted chocolate once cool (mmm, nuts with a crisp cocoa coating enveloped in chocolate!), but that's just me.
Ingredients
1 Tablespoon Oil (I used melted coconut oil)
1 Tablespoon Maple Syrup
1/4 Teaspoon Vanilla Extract
1-1/2 Cups Macadamia Nuts (or nuts of your choice!)
2 Tablespoons + 2 Teaspoons Coconut Sugar or Palm Sugar (If you can't find coconut sugar, regular or organic powdered sugar will do. Simply use 3 tablespoons, omit the cornstarch, and skip the spice grinder step – the result will be a little sweeter)
1 Teaspoon Cornstarch
2 Tablespoons Cocoa Powder
1 25mg Scoop Pure Stevia Extract Powder (some of the blends have dairy in them, so I use only the pure one, like this one from NuStevia)
1/2 Teaspoon Salt
Instructions
Preheat your oven to 250ºF and line a baking sheet with a silicone baking mat or parchment paper.
Combine the oil, maple syrup, and vanilla in a medium-sized bowl.
Add the nuts, and stir to coat.
Place the coconut sugar and cornstarch in your spice grinder and whiz away until you get a powder (about 30 seconds).
Stir the sugar mixture in a bowl with the remaining ingredients until well combined.
Add the powdered mixture to the nuts and stir to coat. It will be very thick, creating a paste-like coating on the nuts, but should stick!
Spread the nuts out on your prepared baking sheet. In general, they should be spaced out so that they aren't touching and clumped together.
Roast the nuts for 25 minutes, rotate the pan and roast them for another 20 to 25 minutes.
Remove them from the oven and let the nuts cool before handling (hot nuts!). They will crisp up as they cool.
Preparation time: 10 minute(s)
Cooking time: 50 minute(s)
Diet type: Vegan, Dairy-Free, Egg-Free, Gluten-Free, Peanut-Free, Wheat-Free, Refined Sugar-Free
Number of servings (yield): 6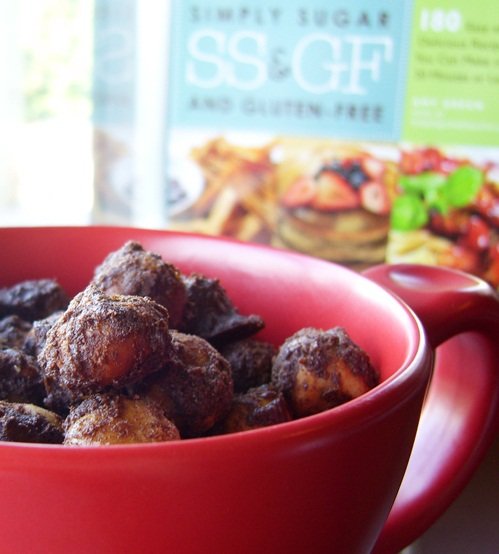 Blog Events: