Gluten-Free Wrap Up: Thinking Outside the Bun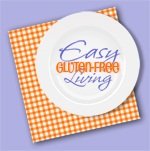 Last week, I somehow found myself heavily dependent upon bread. Breakfast was two slices of toast with nut butter, and while running around town we picked up sandwiches. In the past I have treated wheat like what it is, a single ingredient. As my own personal rule, I don't like to have more than two servings a day of a single food, and I like to keep things varied, rotating between meals throughout the week. But with a busier than usual schedule, I reached for more convenience, and it made me realize just how reliant our culture is on wheat.
I believe I'm the only one in the 30 Days to Easy Gluten-Free Living event who isn't strictly gluten-free. But, I followed this "easily" process to create my own strictly dairy-free life, and believe it or not (last week being the exception!), I do eat gluten-free by choice for most of the week. The fact is, the very concept of gluten-free living has enabled me to think outside of the bread box and expand on my diet. Yes, you heard me correctly. Removing what we often think of as a "food group" can actually help you to diversify your diet! Wheat out, but more foods in … more options definitely makes things easier, don't you think?
So as I embark on my cleanse, moving myself away from a heavy reliance upon bread and gluten in general, I want to share just a few of these naturally gluten-free bread and tortilla alternatives that I have discovered over the years. Sure, it takes some thought, beyond picking up a regular sandwich, but healthier eating in general requires at least a little planning, don't you think?
Okay, lets get to it. Forget the bun, and pass on that wheat tortilla with these nifty and edible food containers …
Lettuce – This is more awesome than you may realize. Lettuce wraps are popular on Asian restaurant menus, but they can wrap up so many other foods with ease. Plus, a lettuce leaf is so much lower in carbohydrates, sugars, calories, and fat than bread, leaving you more room to enjoy ample filling (the best part in my opinion!) and also preventing that horrible belly bloat.
Leafy lettuce that is somewhat sturdy (Boston, green leaf, or even iceberg) works best for wrapping up burgers, sandwich fixins', and even something as simple as hummus and shredded carrots. But sometimes I like to have fun by making things like Romaine Boats with Meatballs …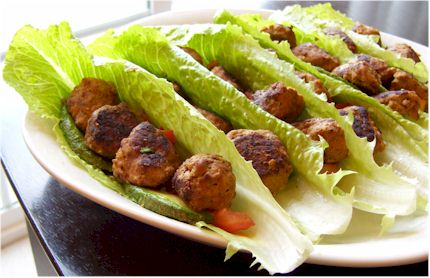 Collard Leaves – Collard greens are surprisingly rich in non-dairy calcium and other vitamins and minerals, but in terms of replacing tortillas, they are also extremely sturdy. I cut out the tough stem in the middle, and use the two leaf halves to rolls up some flavorful goodies. Since Collards (and other greens for that matter) can be a bit bitter, I prefer to use bolder fillings. You may wish to do this too if bitter isn't one of your favorite tastes.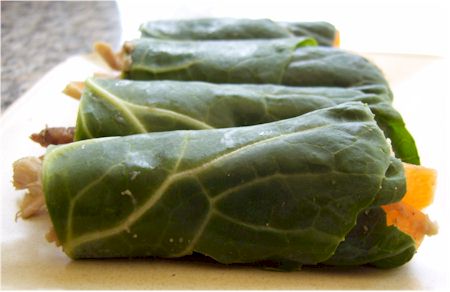 Nori – You don't have to love sushi to appreciate this awesome seaweed. I've been known to roll all types of leftovers into nori wraps … from teriyaki chicken to roasted vegetables to tuna salad. You can even stick to simple veggie fillings for a light nori roll snack. I buy them in bulk on Amazon (I'm not brand loyal for nori), where they are immensely cheaper than in stores.
Nori is more fragile than collards, so it is best not to be too aggressive when rolling, nor do you want them to get too damp. Nori is also rich in natural iodine, and considered one of those healthy sea vegetables. To get the hang of rolling nori hand rolls, click the picture below to see my post for Spicy Shrimp & Avocado Hand Rolls (for a vegan filling, try the Tofu version) and some simple instructions …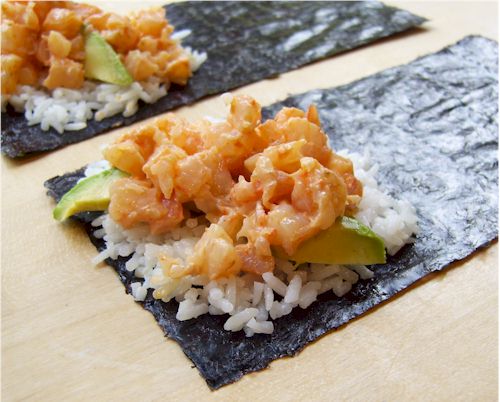 Socca to Me – Made with just a few simple ingredients – mainly chickpea flour and water really – socca is one of the simplest "breads" you can make. Many socca recipes come out more like a dense flatbread, but you can do a thinner version in the oven or on the stovetop to make it roll like a wrap, or even cut it into quarters and enjoy it as the world's easiest sandwich bread. For the most tested recipe, I always look to the socca experts, the Pure2raw Twins. This is their pan-fried Socca Wrap …
Other Types of Tortillas – Corn tortillas are cheap and easy to find, and make a great alternative to flour tortillas for Mexican food. However, since they are typically quite small, I find them limiting and a bit too "corny" for many other types of fillings. You can seek out gluten-free "wraps" in stores. The brown rice tortillas are getting easier to find, and if those are too rigid for your tastes, companies like La Tortilla Factory are using tapioca, teff, and millet as the base for their more pliable Gluten-Free Smart & Delicious Wraps. But this post isn't about tracking down unique products, it's about simplifying. So why not just make your own? Trust me, tortillas aren't as difficult to make as you might think, and you can make a batch on Sunday to enjoy throughout the week! …
Grain-Free Egg-Free Tortilla Wrap Recipe from The Spunky Coconut
Okay, so those are my ideas, but please do share … What are your favorite ways to sandwich or wrap up a delicious filling?
Here's the list of the 30 bloggers and the days that they'll be sharing their easy gluten-free living tips and recipes!