Healthier Crispy Treats & Truffles Take Two
Well, I can see that the Girl Scout Thin Mint Cookie recipe is a hit! I'm wavering on your mass votes for a Samoa recipe, since I'm not really a shortbread girl, but I've seen a few tasty variations, so I may give them a go. I'm kind of surprised no one voted for the Tag-alongs (maybe just my peanut butter-loving wishful thinking).
So today, I have recipes for you, but not here. A blast from the past, my Chocolate Chip Crispy Treats (no bake, dairy-free, gluten-free, soy-free, and just generally more wholesome than the jet-puffed version) are featured on Attune Foods today! Go check the recipe out, and let me know what you think (aka – it would be great if you comment on that post so that they think I'm really cool :)). This recipe has been tested by quite a few viewers over the past year, and has become a popular one, so I think you'll like it.
The second recipe is a more recent feature, but it has really been making the rounds since December. My friend Shirley was kind enough to review my book (she swears her opinions of my book were established far before we were friends – I'm still doubting, but Shirley doesn't tend to lie, so I have to believe her). So with the review, Shirley is featuring my Easy Peasy Vegan Truffle Recipe. Shirley is also hosting a giveaway of Go Dairy Free with the review, so if you don't have a copy yet, or want to give one as a gift, go enter!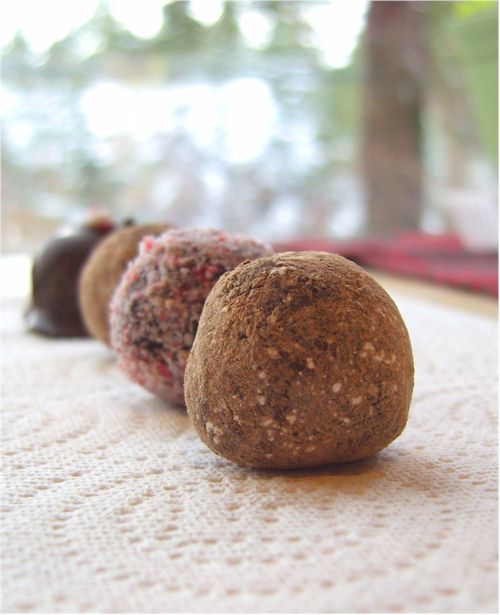 Okay, one last thing. Dealios. Whole Foods has some good deals going one, which alas I will miss by several days. They have whole organic chickens on tomorrow (Friday Feb 18, 2011) for $1.69 a lb! Also, check their sales flyer for your local area (viewable online) as in our area at least, some of the sales correspond with the printable coupons they have (also in store if they have any coupon books left). For example, the So Delicious aseptic coconut milk beverage is on sale for $2 each at my store AND there is a coupon for $1 off! Steal. Unfortunately for me, these sales end Tuesday, and I won't be down to Whole Foods until Wednesday (yes, I always time things like this). So go, shop, take advantage for me!