Vanilla Tempations
You might not guess it to look at my many chocolate (and usually peanut butter) inspired posts, but I'm a vanilla girl. I didn't even like chocolate until some strange metamorphosis happened in my late twenties. But, even as much as I have grown to adore (large) squares of dark chocolate, vanilla is still my first love.
And though the temperature may be dipping its toes below freezing, cool-weather desserts (pumpkin pie, pecan pie, apple pie … need I say more?) just aren't complete without a nice big scoop, or three, or vanilla ice cream (yes, shakes and ice cream – I was a summer dessert crazy lady this past week! I just can't let go). Perhaps I should be making my own … but, that small and ill-designed freezer I am currently living with has not an inch for our ice cream maker. Not to mention, they keep putting the darn stuff on sale at our local grocer making it impossible for me to not put a pint, or three, in our cart.
I recently confessed our guilty love for a certain cheap brand … yes, for us it's taste and texture, however processed, still kicked the pants off of store-bought coconut milk ice cream. But fortunately, I think I have found an equally suitable alternative with slightly more virtuous ingredients. And the blessing in disguise part is that it costs more money … so I'm not as likely to buy a pint, or three, of it every week.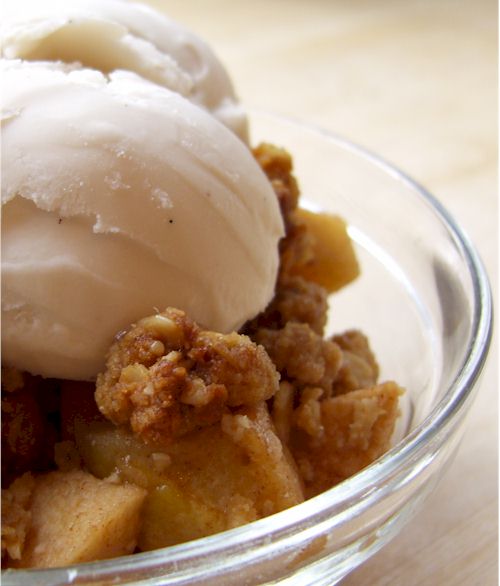 Truth be told, I was actually hesitant to buy this brand of vanilla. While we loved the Tempt Chocolate Fudge, as it turned out the Mint Chip just wasn't quite right. It was a touch icy, very (very) minty, and the overall flavor just did melt nicely onto our taste buds. Since I sensed a vanilla base in the Mint Chip version, I feared that the vanilla would fall to the same fate.
Fortunately, Tempt Vanilla Ice Cream is smooth, creamy, and incredibly rich with vanilla. Even after suffering a drastic melt and refreeze, there were no ice crystals, no chunkies … mind you it was hard-packed, and I nearly needed an ice pick to pry some loose, but it still melted like a creamy dream on my tongue. And it was delicious! At least in my opinion. The flavor, not unlike Tofutti, is certainly different from traditional dairy ice cream, but rich and tasty in its own right.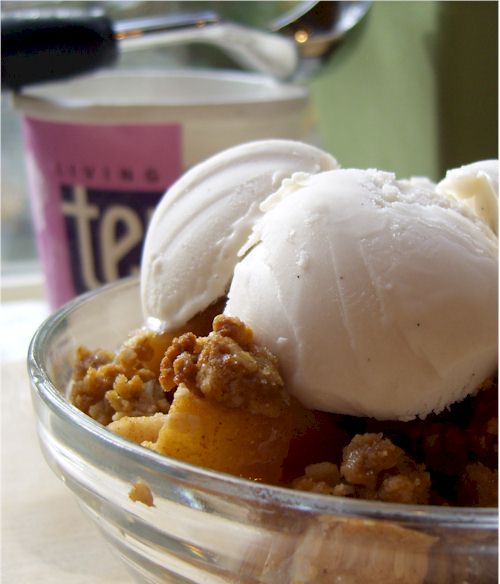 This entire pint serviced a big batch of chunky apple crisp that I made to use up some nearly expired granny smiths. Sorry, no recipe for this particular crisp, it was a throw together. But, I won't leave you hanging. Try these …
The crisp above was based on my recipe for Crumbly Maple Apple Crisp. This is my favorite crisp recipe to-date, and also my dad's. We are both maple and oat lovers.
Traditional sugar fiends, like my grandma and husband may prefer Grandma's Easy Apple Crisp.
I also sampled the Coffee Biscotti flavor, but it is strictly for coffee fans. I really do not like the taste of coffee (yep, seriously), but some of those mocha-ish "ice creams" that are labeled as coffee make the grade. This wasn't a mocha-flavor, it was a true coffee flavor with cookie-like chocolate chunks throughout. Perfect for all of you recovering Starbucks-aholics, but not for these herbal tea taste buds.
The only other current flavor of Tempt is Coconut Lime – but I haven't been able to bring myself to buy it. I love coconut, but am seriously on burn-out from the very concept of coconut ice cream!
To note, taste-wise, I'm not a fan of agave nectar and neither is my husband, which could be one of the reasons the coconut milk ice cream isn't our cup of tea (all major brands seem to be sweetened with agave). Tempt is sweetened with organic sugar. This to me, just fits better.
Have you tried any dairy-free ice cream? Any raves or rants?