Peanut Butter Truffles and Cheap PB Cup Molds
This past week I was honored to do a guest post on Maggie's blog, Say Yes to Salad, in honor of her much-anticipated marriage. I chose to write about the peanut butter truffles we made by hand (about 300 of them!) for the favor at a good friend's wedding.
This post is related to that post, but there's a little more to it. First, I wanted to add that recipe to my personal online blog collection (it is also in my book, Go Dairy Free, for those of you who have it). The recipe is below, Enjoy! Second, I wanted to share a new fun and "I don't care what my husband says" cheap baking / un-baking item.
You see, I have wanted some little candy molds for a while, and was hoping to find some silicone ones because they are so darn easy. So when I spotted a dozen of these gems at Cost Plus World Market for just $2.49, I tossed them without hesitation into our basket …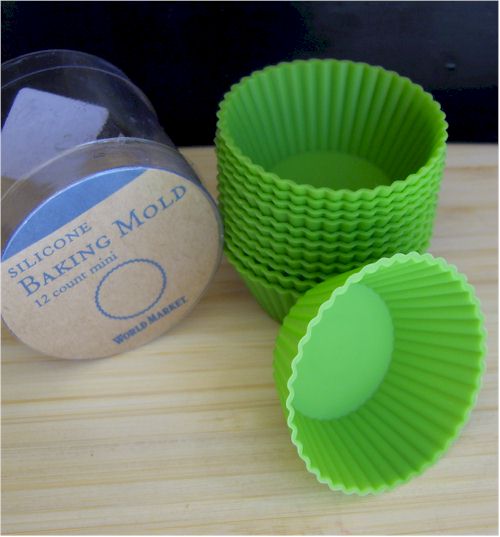 They are mini-muffin / cupcake cups. An application which I may use them for in the future, but they also make perfect candy molds, particularly for turning those peanut butter truffles into peanut butter cups …
As mentioned in Maggie's post, my husband and I have been together for over 14 years now, and we grow closer each day. In fact, for almost all of those years, we have not only lived together, we also work together! Yes, we are rarely apart. He is actually just up the stairs typing away on his computer now. People often wonder how we do it. It's easy … we still act like kids. We call each other names, joke around, play argue … keeping it light lets us vent while having fun. So I have a point with this.
When I put those little muffin cups into our basket, the following conversation ensued:
Husband – What are those?!!
Alisa – Muffin cups that I can use as candy molds. They're only $2.49.
Husband – $2.49 for those? That's ridiculous … way too much. Husband proceeds to remove molds from basket and put them back on the shelf. Snickering of course.
Alisa – But I need them!
We continue on through the store, and I sneak the molds back in the basket when he isn't looking. We get up to the counter to checkout, and husband spots molds in the basket, removes them and hands them to the clerk …
Husband – We don't need these, they are too expensive. You can put them back on the shelf.
Alisa – Agh … but! I want them.
Husband – laughs and purchases molds of course. I mean come on, they're only $2.49!
A week later I made the peanut butter truffles in the candy molds, and of course, when he saw them in the fridge, my husband said, "I'm going to eat these since I had to pay dearly for the molds to make them!" Alisa calls husband "affectionate" name and both leave the room laughing. Husband happy with his reward …
 Yes, these types of conversations occur pretty much daily in our house.
Peanut Butter "Truffles"
This recipe is from my book, Go Dairy Free: The Guide and Cookbook
Casually elegant, these glorified peanut butter cups earned me rave reviews at a close friend's wedding. For party favors, we wrapped a few little treats up in tulle and placed one on each guest's plate. All night long, people I had never met approached me with recipe requests for "those incredible truffles." While I would love to gloat on my innovation and labor, the recipe is embarrassingly easy …
Ingredients
2 Cups Powdered / Confectioner's Sugar
3/4 Cup Smooth All Natural Peanut Butter
1/4 Cup Dairy-Free Margarine or Shortening, Softened
1/2 Teaspoon Vanilla Extract
1/4 Teaspoon Salt
6 Ounces Semi-Sweet or Dark Chocolate Chips
1/2 Teaspoon Shortening
Method
Combine the sugar, peanut butter, margarine or shortening, vanilla, and salt in a medium-sized mixing bowl, and blend until smooth.
Pinch off pieces of the peanut butter mixture and roll them into balls that are 1/2 to 1 inch in diameter. Since you won't be baking them, the thickness of the filling is really up to you.
Place the peanut butter balls in a single layer on baking sheets lined with wax paper or non-stick baking mats (I flatten them slightly to keep them from rolling around), and freeze until they are firm, about 15 to 20 minutes.
While those are chilling, Place the chocolate and 1/2 teaspoon of shortening in a microwave-safe bowl and microwave on HIGH in 30 second intervals (just 2 to 3 should suffice), stirring vigorously between intervals, until the chocolate has just melted and is smooth. Be careful not to overheat the chocolate, as it can scorch easily.
Remove the peanut butter balls from the freezer, dunk them in the melted chocolate to coat, and return them to the baking sheets to dry.
Place the truffles in the refrigerator or freezer to chill for 1 hour, or until the chocolate coating is firm. The truffles should keep in an airtight container in the refrigerator for up to 2 weeks.
Yields approximately 2 Dozen "Truffles".