Uber-Rich, Dairy-Free Peanut Butter Ice Cream with Sweet Peanut Butter Pieces
I admit it, I am one of those people who is either leaping into seasonal foods three months too early, or dragging my feet into the new food season. Case in point, I bought an ice cream maker in September. Yes, I know today is officially the first day of fall, but at $15, who could resist this end-of-the-season deal?
Refusing to store this appliance without any use, and since it is still pretty toasty here, I gave it a couple test drives this past week. My first batch of blueberry ice cream was a little too low fat. It turned out too icy for our tastes. So I went to the other extreme. If you are fat-phobic, click away now. If not, carry on.
I wasn't sure about posting an ice cream recipe as we are heading into fall, especially since I still want to tinker with this one a bit (perhaps toning down that ultra-creamy texture!) and I had already packed my ice cream scoop (no photo-worthy mounds of ice cream), but HEAB said "Never too late for ice-cream recipes," so here I am (she is the nut butter goddess after all, who am I to argue?).
The PB chunks are a version of the Peanut Butter "Chips" from my book, Go Dairy Free: The Guide and Cookbook. The "Chips" are fairly firm and would probably be teeth-breakers in ice cream, so I softened them a bit to still be relatively firm yet forgiving in the ice cream. You can see the chunks throughout … I went overboard a bit …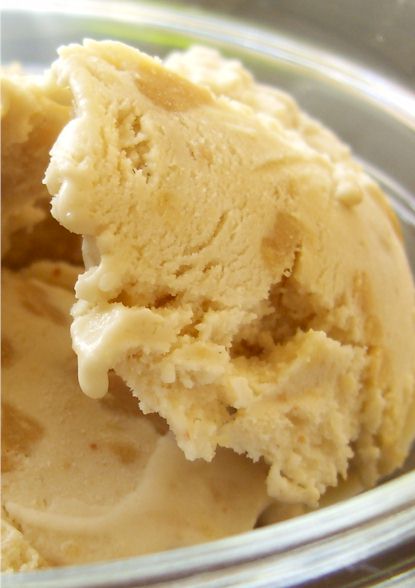 Uber-Rich, Dairy-Free Peanut Butter Ice Cream
This recipe is Vegan / Vegetarian, Dairy-Free, Egg-Free, Gluten-Free, Soy-Free, and optionally Free of Refined Sugars, but definitely NOT Fat-Free
1 14-oz Can Whole or Light Coconut Milk (I used whole – whoa rich! Light would tone it down a bit and mellow the coconut flavor)
1/3 Cup Creamy Peanut Butter (or to taste, I used lightly salted)
1/3 cup Agave Nectar, Maple Syrup, Brown Sugar, or Honey* (or to taste)
1 teaspoon Vanilla Extract
1 Batch Dairy-Free Peanut Butter Chunks (recipe below)
Combine the coconut milk, peanut butter, agave (see note below for honey), and vanilla in your blender, and blend until smooth. Place the mixture in your refrigerator and allow it to thoroughly chill before proceeding. Use this time to make sure the canister of your ice cream maker has been thoroughly chilled in the freezer, and that the container you will pack the ice cream in for keeping is also chilled.
Pour the mixture into your ice cream maker, and follow the manufacturer's instructions (this recipe is rich enough, that you may have success simply freezing it and stirring occasionally until frozen if you don't have an ice cream maker).
While that is whirring away, make the PB chunks. The recipe below makes a lotta chunks. If you want to start with less, half it.
When the ice cream is done, pack it into your chilled container, and drizzle the top with as much of the melted PB Chunks as you desire, creating a thin or thick layer. Freeze until mostly firm. The PB chunk layer will be solidified, break it up with a spoon and stir into the peanut butter ice cream. Freeze until completely firm. Spoon into bowls, enjoy.
* If using honey, you will need to heat the mixture slowly in a saucepan until the honey dissolves. Unlike agave, honey is a bit temperamental about dissolving in cold liquids.
Ice Cream-Friendly, Dairy-Free Peanut Butter Chunks
Recipe adapted from Go Dairy Free: The Guide and Cookbook
1-1/2 Tablespoons Coconut Oil
3 Tablespoons Creamy Peanut Butter (I used lightly salted)
2 Tablespoons Agave Nectar or Honey (don't sub sugar here, you want soft chunks)
1/4 Teaspoon Vanilla Extract
Combine all ingredients in a small saucepan over low heat, and stir until everything is melted and combined.
This makes a lot of PB chunkage, so you may only want to use 1/2 or 3/4 of the recipe for the ice cream quantities in the recipe above.
Blog Events:
I submitted this recipe to Fight Back Fridays at Food Renegade
I submitted this recipe to Wellness Weekends on Diet Dessert & Dogs