Alisa's Completely Informal Energy Bar Awards
I don't have a special logo to offer, and I haven't held a formal panel to taste test every last bar on the market … but I have tasted quite a few bars (dozens in fact) and outgrown some brands as better options have come along … so I thought I would share the ones I keep going back for again and again.
To be considered for Alisa's Completely Informal Energy Bar Awards, said bars must be dairy-free (that is, made without milk in any whey (sorry bad pun), shape, or form – casein-free, lactose-free, etc.). They also needed to be affordable and easily accessible. I have tried some positively delicious bars, but their price tag classifies them as an occasional special dessert rather than a daily dose of energy. As a side note, I also lean toward soy-free bars, as you will see.
With that in mind, the winners are (hearing drumroll in head) …
In the "Most Bang for Your Buck" Category: One Organic Food Bar
Think you can't get a hearty, organic, energy bar for under a buck? Think again! I have only tried the Raspberry Muffin Crunch flavor thus far, but this tasty item combines a soft power bar-esque texture with some granola crunch. I love the price tag and the fact that it tastes good and keeps me going for an hour or two.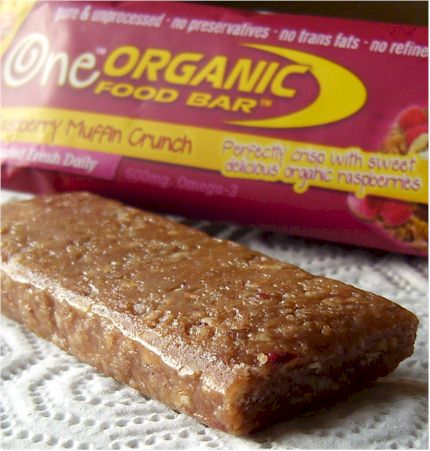 In the "Fiber-liciousness" Category: Gnu Bars
I love fiber – and I don't mean from a health standpoint. I just love the taste of fiberous foods … whole grains, fruits, and veggies kick the pants off of processed white stuff according to the taste buds I grew up with. And this bar lets  you know it is filled with fiber AND no sugars! The soft, chewy, and crunch textures are a conglomeration of various whole grains, fruit juices, and fruit. I love that these taste like real flavors too; no "natural flavors" on the menu. The orange-cranberry bursts with sweet orange essence; seriously.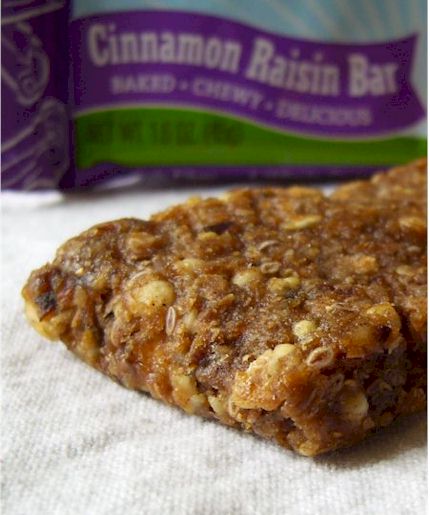 In the "Best Date in Town" Category: Clif Nectar
Don't get me wrong, I do like Larabar. But something about the spices added and overall flavors of the Clif Nectar line put it one step ahead in my book. I also love that Mambo Sprouts seems to frequently offer Clif Nectar coupons, bringing it that much closer to well-priced. I am a bit concerned that the Nectar line is cutting back, since the Clif site only shows four flavors now, but hopefully this isn't so.
(Sorry, no pic. Those date-based bars just don't like to cooperate with the camera)
And in the "Seriously Exceeded Expectations" Category: Organic Green Superfood Bars
Truth be told, my husband would pick Odwalla Bars over these bars from Amazing Grass, but he really isn't into dried fruit bases in bars. And honestly, I can't pinpoint why I love these bars so much, I just do. The flavor hits those perfect notes of sweet, but not too sweet, flavorful, but not overpowering, and comforting. I greatly prefer the one without the chocolate coating (it just doesn't meld in my opinion), but I have read reviews to the contrary on other blogs. Since this one is generally the priciest of the bunch (nearing $2), I reserve it for when I want to feel the virtue of chomping on some greens without the "green" taste. Note: I am a big fan of Amazing Grass SuperFood, which is used in this bar, so my palate may be biased.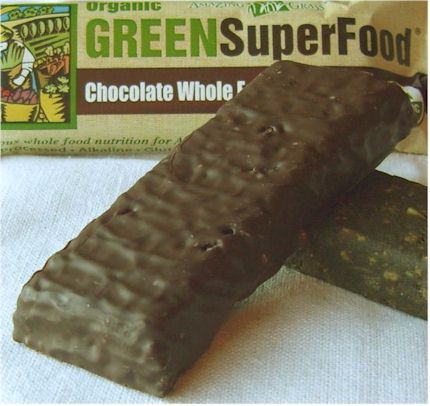 This bar is Vegan (Dairy-Free / Egg-Free), Soy-Free (chocolate one has soy lecithin), and Gluten-Free.
Nutrition per 60 g bar (may vary by flavor):  230 calories, 8 g fat, 36 g carbs, 5 g protein
Finding the Best Price:
In my opinion, there is no magical one way to find a great deal on "bars." Rather I scour a few options and when the deal looks hot, I strike and load up. These are the places I always look:
Three questions for you:
What are your favorite bars? Do we share some common tastes, or did I miss a gem?
Why do the calorie count and nutrient grams never calculate out properly on bars? When I multiply out the protein (4 calories per gram), carbs (4 calories per gram), and fat (9 calories per gram) listed on bars to calculate calories, they rarely match the calories listed on the bars! More of a curiosity really.
Dairy-free and soy-free protein bars are hard to come by (the above are what I classify as "energy" or "snack" bars) … so, I make my own at home. Would you be interested in my recipe for homemade dairy-free, soy-free protein bars?