Comment to Win Gourmet Sweets from Divvies!
Yes, the spirit of giving is alive and well!  This week Divvies is offering a gift package to two of you!  Simply leave a comment below and tell us your favorite type of popcorn … caramel, candied, kettle, chocolate, "buttered," cheesy, or simply salted … however you like it just share and you will be entered to win!  
Now you might be wondering, "What will I win?"  Well, Divvies is well known for their gourmet gift packages, so they will be offering up two of these seasonal packages as prizes! The first is their Santa's S'morg, a sampling smorgasbord of bakery cookies, candy and gourmet popcorns loaded into a large Divvies gift box … and, it looks something (exactly) like this …
The second prize is Divvies' Team Popcorn, a delicious package of gourmet popcorn, complete with stripe circus bags and a paper scoop for sharing with the whole group. An image would be helpful, no?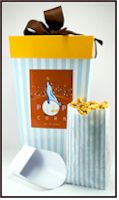 Of course, the real thing is much larger, these images aren't even close to scale!
Also, If you are on a special diet or have food allergies, have no fear.  Divvies runs a food allergy-friendly facility that is free from dairy/milk, eggs, tree nuts, and peanuts, and is consequently vegan.
I'm looking forward to hearing your responses, and may just have to follow-up with a recipe or two of your popcorn favorites! The two winners will be announced on Friday, December 12th (2008), so reply now!