My First Attempt at Vegan Brownies
Truthfully, I am by no means a chocoholic.  I can say with confidence that I have never actually purchased a purely chocolatey dessert myself.  However, I do love my very own homemade brownies.  Dense, fudgy, and topped with a generous sprinkling of chocolate chips they have been a comfort treat ever since I returned to a dairy-free lifestyle.  But lately, I have started experimenting with vegan cooking, and began to wonder, "Why not try some vegan baking? After all, who really needs eggs anyway?"
So, I eagerly set out to quickly modify my tried and true brownie recipe which housed two eggs in its original form.  I researched the replacements carefully, as I had no desire to create any sort of cake-y chocolate creation.  It had to remain moist, soft, dense, and chewy.  Based on what I read, and what I had on hand, I settled on some applesauce, and I think a sprinkling of baking powder if I remember correctly (it has been a few weeks, as I wasn't quite ready to share my utter disaster right away).
I put the brownies in at the obligatory 350ºF, and set the timer for 20 min, just to check in.  When the timer went off, I turned on the oven light for a quick peak, and immediately thought, "Are those boiling?  Brownies aren't supposed to boil are they?"  Thinking they just needed some more time to set up, I let them bake for another 5 to 10 minutes.  At that point, I knew they had to be done, but as I removed them from the oven they were still, completely, boiling!  A gooey chocolate mess to be certain, I had no idea how to salvage this strange bubbling chocolate brew.  I sulked off to the next room and thought that perhaps they would solidify…
… and solidify they did.  As a good friend I have would say, they were quite a toothsome treat, though the treat part would be a vast overstatement.  Sugar and chocolate attempted to salvage the overall flavor, but I could easily crack a molar on the insanely flat and chewy thing that emerged.  I can't even call them bars or brownies as I had to use all the muscle I could muster just to rip these things apart into the shapes you see below…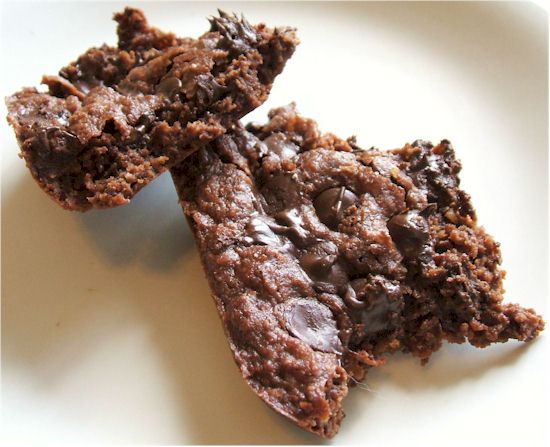 So, apparently, I still need eggs.  But, if anyone has a good idea for moist and dense vegan brownies (not those fluffy cake-like ones), I am all ears!  To avoid leaving you hanging (and craving) on a brownie post without an actual good idea, I just found a recipe for "The Best Vegan Brownies Ever" at the Vivacious Vegan blog.  I may be giving these a try soon.