Winners and Mocha Fudge Energy Bites
Did you enjoy the holidays?
My husband and I don't usually exchange gifts during the holidays, so this year, I felt like a little kid again with all of the wonderful surprises! Tony outdid himself in deal-finding (hello, awesome new, more powerful netbook for just $200!!), my in-laws as usual were so generous (love the new powder blue ski coat!), and I even received a cool, and completely unexpected gift basket of treats in the mail ….
Is it just me, or does Starbuck's always make the coolest coffee accessories? (I'm sitting here right now sipping tea from my favorite Starbucks jumbo "world" mug that I bought years ago). That, above, is a ceramic travel mug – so, so awesome! Oh, and that StellaMare soy candle is heaven on earth. Seriously, I'm not a fan of most scented candles and nearly keel over whenever walking by those candle and bath shops, but StellaMare is now on my Pinterest loves (yes, I even created a new board just to have a place to pin those candles!).
So as some of you know, I adore tea (understatement of the year), but coffee and I are practically strangers. That said, I've been wanting to trial coffee in recipes, and the VIA instant coffee that they sent seemed like the perfect excuse. I love the individual packets, as I can use a small amount in recipes and the rest stays fresh! Anyway, I whipped up these amazing, caffeine-infused nibbles …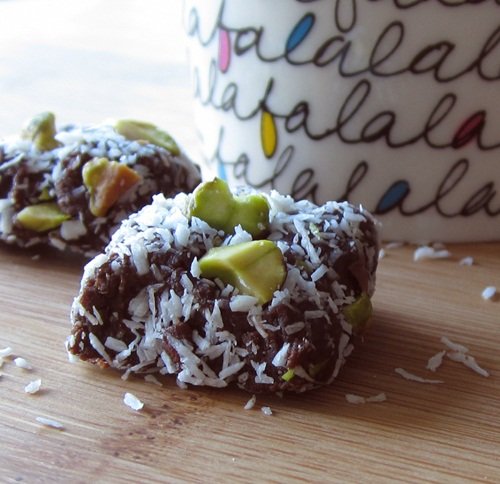 See the recipe here.
Take a look, do you see what I did? I actually "themed" them with coconut and pistachios for a wintery, holiday vibe. Yes, the girl who typically can't take 2 seconds to style the food or even think about making it look seasonal. I know, this isn't huge … but baby steps. Are you proud of me?
But back to those fudge bites, which are delicious! A touch strong in coffee for me … just a touch, so I left the amount in the recipe as is, but I might use a little less next time for my own tastes since the flavor of coffee is still a bit potent for my timid taste buds. But I need more ideas!
Do you have any recipe ideas or loves that use [a small amount of] coffee? (again, baby steps)
Also, the Home for the Holidays – Gluten-Free Event has come to a close. See the ginormous list of winners here.