Bakery-Style Oatmeal Cookies: Traditional or Gluten-Free
In case you haven't noticed, I like cookies. As a personal ritual, I bake cookies on the holidays. I mean, what else do you do when all of the stores are closed and no one is working?
So when a few people emailed in asking for a gluten-free version of Hannah's Bakery-Style Oatmeal Cookies, I took it upon myself to see what I could come up with. I thought I would master the recipe and share it just in time for some Easter cookie baking. But little did I know that even with all of the changes I made to her recipe (flours, sweeteners, add-ins), the recipe would work beautifully on the first try!
Either I've truly honed my ability to adapt recipes to special diets, or I just got lucky. Either way, these were scrumptious. And devoured in one day.
I will still be sharing this recipe on Go Dairy Free just in time for Easter, but those of you who follow me here get a sneak peek, since I accomplished my goal so early in the game. It is also fun to post recipes here as I have more room to include an extra picture or two. Because really, can you ever have too many pictures of cookies on your blog?
If you prefer a gluten-based cookie, see Hannah's original recipe (link above), or simply replace the tapioca starch and brown rice flour in the recipe below with 1/2 cup of all-purpose or whole wheat pastry flour, adding a tablespoon or so more at the end if the dough is too soft and sticky. I'd keep the oat flour though – so easy to make and it goes well with gluten flours too!
Gluten-Free Bakery-Style Oatmeal Cookies
This recipe is Vegan, Dairy-Free, Egg-Free, Gluten-Free, Tree Nut-Free, Peanut-Free, Soy-Free, and Wheat-Free. You can even go all out, making them refined sugar-free by replacing the brown sugar with coconut / palm sugar or evaporated cane juice.
These cookies have a soft and chewy texture. Store them in an air-tight container to keep them from drying out.
1 Cup + 1/2 Cup Oats, Divided (for strict gluten-free, use certified gluten-free oats)
1/4 Cup Tapioca Starch
1/3 Cup Brown Rice Flour
1/2 Tablespoon Baking Soda
1/2 Tablespoon Ground Cinnamon
Rounded 1/8 Teaspoon Salt
1/4 Cup Dairy-Free Margarine (I Used Earth Balance Soy-Free)
1/4 Cup Brown Sugar
1/4 Cup Maple Syrup
1 Tablespoon Molasses
1 Teaspoon Vanilla
1/2 Cup Dairy-Free Chocolate Chips And Raisins (I used Dream Chocolate Chips)
Preheat your oven to 350ºF and line a baking sheet with a silpat or parchment paper.
Place the 1/2 cup of oats in a spice / coffee grinder (a food processor or high powered blender should work too) and grind for about 30 seconds, or until you get powdery oat flour.
In a medium-sized bowl, combine the fresh oat flour, the 1 cup oats, tapioca starch, brown rice flour, baking soda, cinnamon, and salt. Set aside.
In a mixing bowl, mix together the margarine, brown sugar, maple syrup, molasses, and vanilla. Stir in the reserved flour mixture until it is all incorporated and you have a nice thick dough. Stir in the chocolate chips or raisins.
Drop the dough by the generous tablespoon-ful onto your prepared baking sheet. I used slightly damp hands to shape the cookies – if the dough is too moist to handle, feel free to refrigerate it for an hour or so to help it firm up.
Bake the cookies for 10 to 12 minutes, or until they just begin to brown. Let them cool for at least 10 minutes before removing them to a wire rack to cool completely. Gluten-free cookies (especially ones without xanthan gum) tend to be fragile when still hot.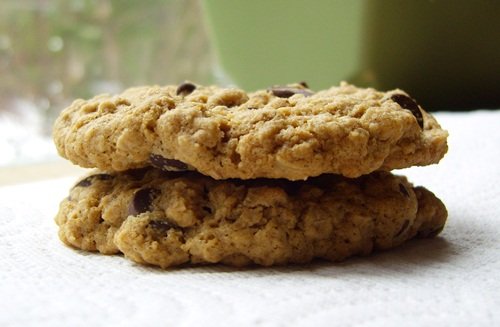 Blog Events:
I submitted this recipe to Real Food Weekly at The WHOLE Gang.