Gluten-Free Oatmeal Raisin Protein Bites
Quick Notes:
Don't forget to cast your vote in this week's giveaway!
Also, check-out some of my other posts at Dairy-Free & Fit.
These little no-bakes are easy to throw together and even easier to modify. You can increase or decrease the sweetener, change the add-ins, toss in some more spices, and even pump up the protein and fiber if desired. Seriously, this was a recipe where I just kept adding, and tasting, adding and tasting, check consistency, add, done. Have fun with it! 
I had high hopes that these healthier treats would mitigate my cookie cravings. They've helped for sure. But really, can one every rid themselves of cookie cravings? Not I.
I also used this recipe to test run the High Protein Hemp Powder from Living Harvest. The ingredients of this product are simple: Hemp Protein Powder, Silicon Dioxide, and Vitamin E. I wasn't sure about the silicon dioxide, but do admit that it turns this protein powder into just that … a powder. It is a white fluffy blend that can easily substitute one-for-one for dry milk powder or whey powder in recipes. This factor makes it much more versatile than most dairy-free protein powders, including ordinary hemp protein powder, which can sometimes be grainy.
The wonderful consistency of this hemp powder mixed into these two-bite snacks, combining with the nuts to provide over 7 grams of protein per serving (2 no-bakes). And don't forget those popular Omega-3's. Both the hemp oil and the hemp powder provide some of these "healthy" oils, along with the walnuts that I used.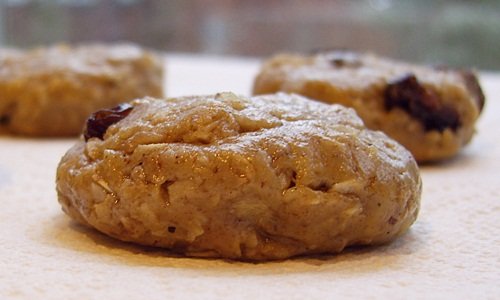 Nutty Oatmeal Raisin No-Bake Bites
This recipe is Dairy-Free, Egg-Free, Gluten-Free, Soy-Free, Wheat-Free, Refined Sugar-Free, optionally Nut-Free, and optionally Vegan.
4 Ounces Nuts (see below)
2 Teaspoons Oil (I used Living Harvest Organic Hemp Oil)
3 Tablespoons Maple Syrup
1 Tablespoon Honey or Agave Nectar (optional)
1/8 Teaspoon Vanilla Extract (optional)
1/4 Cup Dairy-Free Protein Powder (I used Living Harvest High Protein Hemp Powder)
1/2 Teaspoon Ground Cinnamon
Pinch Salt
1/2 Cup to 3/4 Cup Quick or Rolled Oats (I use quick oats – same nutrition, but finer; be sure to use certified gluten-free oats if that is a concern for you. You may be able to sub quinoa flakes if oats aren't an option with your diet.)
1/4 Cup Raisins
Grind the nuts in a food processor or spice grinder until they begin to turn into a paste or "butter." If a few chunks remain, I don't mind, if you don't mind. Place the nut butter in a bowl, and stir in the oil, maple, honey or agave (if using), and vanilla (is using). Stir in the protein powder, cinnamon, and salt until smooth. Stir in the oats and raisins. Start with ½ cup of the oats, but feel free to add more if desired. Some nut butters may be a bit oilier or softer than others, so more oats may work better.
Roll the dough into 12 little balls, and flatten a bit like cookies if desired, or leave as balls. Store in the refrigerator or freezer until ready for a snack.
Nuts: I used all walnuts, which are tasty but slightly bitter. For the sweetest and smoothest results, I recommend using cashews, though almonds and even sunflower seeds should work well too. When using walnuts, 4 ounces was a generous cup, or a scant 1-1/4 cups. For cashews,  you will be looking at a little less than 1 cup since it is a denser nut.
Yields 6 servings
Blog Events: