Wild Tuna Salad from The Gluten-Free Diner
Words can definitely describe my friend Diane at The WHOLE Gang, but you will need a whole lot of them! She keeps a modest demeanor on her blog, sharing wisdom, recipes, and tips. But there is a super-spunky, energetic, passionate spitfire lurking behind that content.
Now that I know Diane a bit better, her ebook, The Gluten-Free Diner Cookbook, makes perfect sense. She is gluten-free, dairy-free, and an enthusiastic promoter of whole, natural, and organic foods. But, she also loves the flavors of comfort foods. The Gluten-Free Diner Cookbook is a collection of recipes that truly looks like a snapshot of Diane's kitchen, and I was honored to be invited inside.
Since my husband is allergic to eggs, my options are always a touch limited with gluten-free cookbooks. Nonetheless, I have the following marked to trial (just to give you an idea of the selection):
3 Grain Hot Cereal (a crockpot recipe!)
Sesame Ginger Chicken Wings (definitely the way to Tony's heart)
Posole (I'm seriously curious on making this at home now that Chipotle's deemed Posole worthy of their menu!)
Buffalo Chicken Mini Burgers (love this idea!)
Onion Rings (no explanation needed)
Papusas (I actually had my first papusa with Diane (okay, similar to a papusa), so I was excited to see how easy they are to make!)
Blueberry & Blackberry Crumble (this is going on my summer list – crisp or crumble, I'm an addict for crunchy toppings)
Our tastes are simple, but for those of you looking for more adventure, Diane doesn't disappoint. There are approximately 50 recipes in the ebook, and other recipes include Roasted Chicken with Dates & Caperberries, Boeuf Bourguignon Burgers, and Polenta Fries.
For my initiation into The Gluten-Free Diner Cookbook, I did try a simple recipe that turned out fabulous. With Diane's permission, I'm sharing the recipe here, but with my own little adaptations. You will have to get the ebook to see her original version in all its glory.
Two Onion Tuna Fish Salad
Recipe adapted from the "Three Onion Wild Tuna Fish Salad" recipe in The Gluten-Free Diner Cookbook by Diane Eblin.
Diane's version is actually a "Three Onion" salad, but I only had two types of onions on hand. To compensate, I also snuck in some carrot. The very fine grate of the carrot added color to the mixture and just a touch of sweetness … but easily slipped by my carrot-hating husband. I served scoops of this tuna salad atop romaine lettuce and garnished with sliced olives, no additional dresing required! But of course, it will also work well with other veggies, in a sandwich, or with crackers. This recipe is Dairy-Free, Gluten-Free, Nut-Free, optionally Soy-Free, and optionally Egg-Free.
1 6-Once Can of American Tuna Wild Albacore Tuna (I don't think mine was wild, it was an Albacore Tuna packed in olive oil though, which we prefer as it isn't mushy like tuna packed in water)
1 Medium Carrot, grated (that is the fine grate, not shredded)
2 Tablespoons Regular or Vegan Mayonnaise (Diane calls for organic mayo, but we have to go egg-free, so I use Vegenaise Grapeseed Oil)
2 Green Onions, sliced (can sub in chives)
2 to 3 Tablespoons Finely Diced White or Purple Onions
1/4 Teaspoon Salt
1/4 Teaspoon Celery Seed (I ground them because I'd never used celery seed and was uncertain, but they are so tiny, you can probably just throw them in whole)
1/8 Teaspoon Black Pepper, or to taste
Directions (per Diane): Mix all ingredients together and let the party start! 
Serves 2 for lunch or just 1 if you have a hearty appetite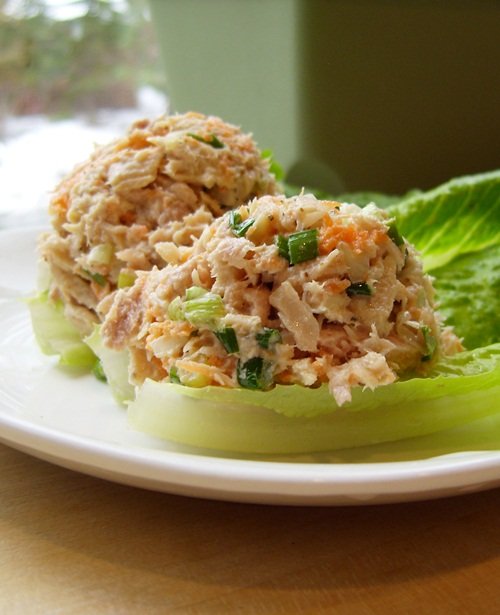 Blog Events:
I submitted this post to Slightly Indulgent Tuesdays at Simply Sugar & Gluten-Free