Oatmeal Chocolate Chip Muffins
Yes, I deliver on my promises … to you and to my husband. First off, thanks so much to all of you who voted! We shall find out in a few weeks if I'm up for speaking at the Fitness & Health Bloggers Conference.
As for the husband, Tony wanted a hearty chocolate chip muffin, something sweet, yet filling. Did I succeed? Well, yes and no. These are yummy … we gobbled them up and the recipe is definitely worth sharing, he agreed. But it seems he wants an even more filling muffin. More oil, more nuts, more fat is his request. But for those of you who don't want a 700 calorie muffin, I think these will be enjoyed, and are certainly healthier and more filling than your average fluffy white muffin.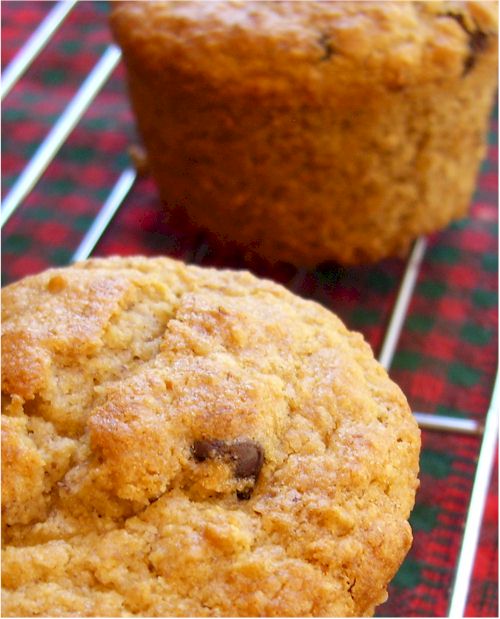 I used all whole wheat pastry flour in these muffins, which is lighter than regular whole wheat flour, but heartier than plain white flour. For a fluffier muffin, feel free to use all-purpose flour, or a combination of the two. For gluten-free, sub in your favorite gluten-free flour blend (with some xanthan gum or guar gum), I just haven't trialed that version as of yet.
Also, note that these babies were concocted at high altitude. One of the reasons I haven't posted as many baked goodie recipes in the past year, is that my husband can't have eggs, and vegan treats are trickier here in the mountains. I'm also hesitant since my results will vary slightly from those at low altitude. Yeasted baking is a piece of cake, baked goods with eggs usually turn out, but baking powder treats sans eggs have busted me on numerous occasions. It is a delicate balancing act at 6500 ft. Fortunately, I'm getting the hang of it, and hopefully able to offer you conversions for both low altitude and high altitude that produce stellar results. So, I have included the amounts I used for the leavener, plus adjustments for sea level and semi-high altitude. These should work well.
Oatmeal Chocolate Chip Muffins
This recipe is Dairy-Free, Egg-Free, Nut-Free, optionally Soy-Free, and optionally Vegan.
1-1/4 Cups Quick Oats
1 6-ounce Container Plain or Vanilla Dairy-Free Yogurt (I used Plain Whole Soy & Co Yogurt, but you could use coconut milk yogurt or sub in 2/3 cup applesauce or banana in a pinch)
1-1/4 Cups Unsweetened, Original, or Vanilla Milk Alternative (I used Unsweetened Hemp Bliss)
1/2 Cup Brown Sugar, firmly packed
1/4 Cup Oil (I used melted coconut oil)
1/4 Cup Honey (can sub maple syrup or agave nectar, if desired)
1 Teaspoon Vanilla Extract
1 Tablespoon Flaxseeds, ground (I use a spice grinder)
1-1/4 Cups All-Purpose or Whole Wheat Pastry Flour, or a combination (I used all whole wheat pastry flour)
2 Teaspoons Baking Powder (this is the amount I used at high altitude (6500ft), for sea level, you may want to double this amount, for 3000 to 6000ft, use 1 Tablespoon)
1/4 Teaspoon Baking Soda
1/2 Teaspoon Salt
3/4 Cup Semi-Sweet Chocolate Chips (I used Dairy-Free Dream Chocolate Chips)
Optional: Additional brown sugar for sprinkling the tops with.
Preheat your oven to 400ºF. If needed, grease or line a dozen muffin cups. I use silicone muffin cups and find that they actually work much better ungreased.
In a large bowl, combine the oats, yogurt, milk alternative, brown sugar, oil, honey, vanilla, and ground flaxseeds. Let that sit and co-mingle while you combine the other ingredients.
In a medium bowl, whisk together the flour, baking powder, baking soda, salt, and chocolate chips. Fold the dry ingredients into the wet ingredients in your large bowl. Divide the batter between 12 muffin cups, it will be quite thick. If desired, sprinkle each muffin with some additional brown sugar for a crunchy sugar crust.
Bake for 22 to 25 minutes. Let cool for 15 minutes, and then remove the muffins to a wire rack to cool completely.
Prefer to bake with eggs? If you prefer your muffins with eggs, simply add 1 egg to the wet ingredients, reduce the milk alternative by 1/4 cup, and omit the flaxseed. You can also probably get away with less baking powder – just 2 to 3 teaspoons at sea level.
Makes 12 chocolatey muffins