Decadent Dairy-Free Mint Truffles
Last week I eluded to some upcoming recipes for these …
New Dairy-Free & Gluten-Free Chocolate Dream Chips! Yum!
And the fact that some of this was heading our way …
This is after day 1 of the storm at our house. Much more hit the ski hills of Tahoe!
This is actually a winning combination for me, as it gave me the chance and motivation to make loads of these …
These babies are rich, sweet, and so, so, SO easy to whip up! Trust me, they are a simple way to impress any chocolate fan around the holidays. Plus, you can customize them. As you can see, my favorite were the Peppermint Crush …
But, you may be like my husband and prefer the simple cocoa and powdered sugar dusted …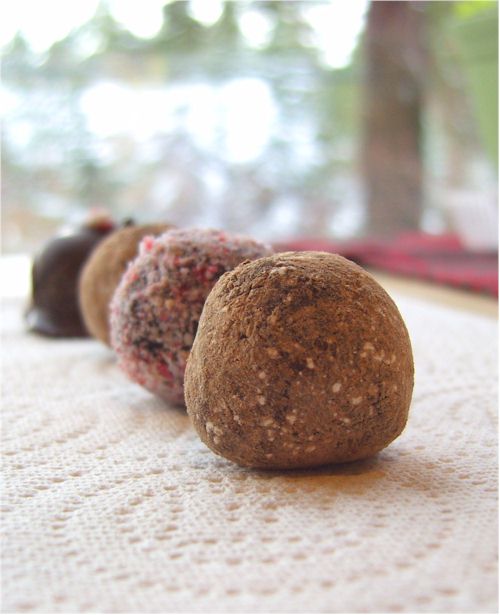 Another great thing about homemade truffles is that you can make them any size you want. Roll some jumbo-sized to dazzle family and friends, or roll little bite-sized ones as you attempt (in vain, like me) to exercise portion control through the holidays.
The new Chocolate Dream Semi-Sweet Baking Chips were deliciously flawless in these truffles. These chocolate chips aren't listed on their website yet (only the bars), but you can buy them in stores – they even had them at my local grocer. Here is a picture, so you know what I'm talking about …
The Chocolate Dream Chips are a touch sweeter than the brand of chips I normally buy, Trader Joes, but that makes them perfect for these truffles without any added sugar (yes, of course I nibbled on several chips while making these!). Plus, these babies are made on dedicated dairy-free equipment! You heard me right … these semi-sweet gems get their own little piece of the factory away from all of the milk chocolate. They are also gluten-free, and tested to less than 5ppm for both milk and gluten. Sorry, as a dairy-free diva, I get a bit overly excited whenever a company goes above and beyond on the food allergy front. Back to those truffles …
Semi-Sweet Mint Truffles – 4 Ways
This recipe is Vegan, Dairy-Free, Egg-Free, Gluten-Free, Grain-Free, Nut-Free, Soy Protein-Free (this brand of chocolate does have soy lecithin), Wheat-Free, and almost healthy. I said almost!
1/4 Cup Coconut Cream (see directions)
8 Ounces Semi-Sweet Chocolate Chips (or dark if you prefer), approximately 1-1/3 Cups (as mentioned, I used those dairy-free Chocolate Dream Chips – blue bag)
3/4 to 1 Teaspoon Peppermint Extract (to taste)
1/4 Teaspoon Vanilla Extract
Optional Toppings: Crushed candy cane, powdered sugar, melted semi-sweet chips, cocoa powder.
First things first, lets get some coconut cream. You can actually buy coconut cream in a can or aseptic package at many stores, or you can just skim the cream off the top of a regular (not light!) can of coconut milk. Grab a can, and don't disturb it. Do not shake, stir, or otherwise emulsify the contents of the can. When you open the can, it should look somewhat like this …
See that nice thick cream on top. It should scoop out nicely. I usually get about 1/2 cup of cream per can (just enough if you opt to double this recipe). Underneath is a watery coconut milk. You can reserve that for using in some other savory meal or sweet baked goody.
Okay, now that you have the cream, melt the chocolate. I'm lazy, I just fire the chips in the microwave in 30 second intervals (usually just two will do it), virorously whisking in between cycles to get a smooth consistency. You can go the fancier way and melt it with a double broiler if you wish though. Once the chocolate is nice and smooth, stir in the coconut cream, mint extract, and vanilla extract. The cream may be a bit lumpy, just whisk until it all smooths out. Place it in the refrigerator to chill for several hours.
Once it has firmed up, scoop and roll into balls – whatever size you like. The chocolate will be firm, but it does soften a bit at room temp, so I like roll each of the balls (to coat) in one of the following:
Cocoa Sugar Combo – Sift together equal parts cocoa and powdered sugar.
Melted Chocolate – Melt some more chocolate chips with a touch of shortening or coconut oil. Dip the balls to coat, and place them in the freezer or fridge to set up.
Peppermint Crush – Place a little candy cane in your spice grinder and whiz until powdered / crushed (just takes a few seconds). Note that the Peppermint Crush exterior can get a bit sticky over time, so this version is best served fresh. For a similar idea that stores better, try the Peppermint Crunch …
Peppermint Crunch w/ Cocoa – This is another favorite; when you scoop out some of the chocolate, press it into some of the crushed candy cane, and then mush it together and roll into a ball so that you end up with wee crunchy peppermint bits throughout. If you don't want a super mint rush, you can just do the peppermint crunch and reduce or omit the mint extract. Roll in cocoa powder or cocoa/sugar to coat.
Makes a boatload of truffles … I don't know, maybe 4 or 5 dozen?
Blog Events: