Spicy Shrimp and Avocado Hand Rolls
I have decided to jump into this month's Go Ahead Honey It's Gluten-Free event because one of my favorite GF people, Diane of The W.H.O.L.E. Gang is hosting it. Now that I know how fun and goofy Diane is, it came as no surprise that she picked "Scared Silly" for the October theme. According to Diane, "These would be recipes using foods you were once  scared to eat but then after you tried them realized it was silly to be scared of them."
I know what some of you are thinking, sushi? Come on, everyone's scared of sushi at first. But, my friends, sushi isn't my scared silly theme. Actually, I leapt at my first opportunity to go out for sushi. I remember it well in fact. Back in the mid-90's there were three of us in the finance department for a tech company. Myself, my boss, who is Filipino, and a colleague, who is Chinese. Those two ladies were always eager to take me for every kind of Asian food … they could just hand me things and say "try this" and I would. I pretty much liked all of the cuisines they introduced me to, but sushi, now that was pure love. I love sushi so much in fact, that I make it at home or go out for it at least once a week. Yes, we even make raw sushi at home sometimes too, but don't worry, the recipe below is fully cooked. See …
But, I digress …  back to that theme. My scared silly food is avocados. It was actually hard for me to come up with a food, because I've never really been scared to try any foods (okay, I'll pass on Uni) … but, there have been foods where my initial experience was so bad, that I was afraid to have it again. Yes, up until about 5 or so years ago, I would run for the hills anytime I saw that slimy green mush … because that is what I knew it as. My mom was a "sandwich lady" delivering sandwiches to businesses when I was a kid. Everyday she would get to bring home selections of whatever was leftover (yes, for years I ate A LOT of sandwiches). One variety was the Turkey, Avocado, and Sprouts. As a lover of turkey and sprouts, I gave it a go, but leftover, day old, mushed in a pita avocado is rather disgusting. Two bites and I never wanted anything to do with avocados again.
I can't recall the day that my outlook changed, but I am sure it was while I was living in Northern California … I swear the avocado could be considered the "state fruit" (or vegetable, or whatever you want to call it) based on consumption alone. Californians love their avocados, and now I do too. I use every opportunity, both sweet and savory, to sneak avocados in. So not surprisingly, sushi rolls aren't complete in my book without a thick wedge of ripe, but firm avocado.
Now this is more of an "un-recipe" if you will. I'm still reeling a bit from a couple weeks of travel and playing catch-up, so my time in the kitchen has been more about throwing together "un-recipes" than creating solid, correctly-measured recipes. But next week begins my heads down time … I am going to be working on two new books, so there will be lots of kitchen creations for both the books and online. So stay tuned, I promise some very good things. Well, this is good too …
Spicy Shrimp and Avocado Hand Rolls (Un-Recipe)
Rice, Brown or White (see rice preparation tips below)
Shrimp (can sub crab or krab – but check ingredients on imitation crab if you have free-from needs; some brands contain gluten, soy, or even milk (yep, no joke))
Sriracha Hot Chili Sauce (yes, they have it at regular grocery stores! I have read that the standard "rooster" brand is gluten-free as confirmed by the company, but you can also try this one if you are nervous)
Mayo, regular or vegan (I use Grapeseed Oil Vegenaise)
Green Onions, diced (optional, I didn't have any for the hand rolls made in these pics)
Nori Sheets (these are your seaweed wraps – most grocery stores have these too, but they are really cheap online – I buy them from Amazon in quantity – bought Roland brand, but there are many)
Avocado Slices
Wheat-Free Tamari (for gluten-free) or Soy Sauce
Rice: I love brown rice, but the husband loves white, so I compromise sometimes. To make the best sushi rice, make the rice fresh, and while it is still hot, add in rice vinegar (I use a couple teaspoons per cup of rice) and gently stir the rice for about a minute, it will start to get sticky. See here for an official sushi rice recipe (they often add sugar and salt, but I'm too lazy and also think, why add more salt and sugar? Okay, it is a little bit better done that way, but back to the lazy excuse). Do not try to just reheat leftover rice for this, it will not work. But, you have two options if you want to use leftover rice (which is what I used in these hand rolls). First, add just a wee bit of water to the rice (to dampen), cover, and microwave it for about a minute, just to re-steam it a bit. You can use it as is at this point (it won't be sticky, but it will be rejuvinated), or do like I do and add a little of the mayo to it to help it stay together.
Shrimp: First, I go tothe fridge and hope that my husband has peeled and deveined the shrimp. Score! He had. I fired it in a pan over medium heat (non-stick pan, so just a wee bit of coconut oil to cook) and cook it for just a few minutes per side (you want it just cooked through and still crisp-tender). Allow the shrimp to cool for a few minutes, dice it, and toss it in a bowl. Add the sriracha and mayo to taste. I literally squirt in the hot sauce, add just enough mayo for the sauciness I want, and taste test, adding more hot sauce if desired. If you have green onions, stir those in now.
Vegan Options: Sub the shrimp with veggies (cucumber, carrots, etc.) or tempeh for a little meatiness.
Hand Rolls: Now, you can make long rolls, but hand rolls are a good quick cheat, especially if your rice isn't as sticky as you would like it. Cut some nori sheets in half, and lay each one out on the clean counter or cutting board. With wet fingers (I keep a little bowl of water right by), press the rice out onto the left side of the nori sheets (covering only about 1/3 of the sheet – you will only use a couple tablespoons or so of rice per hand roll). Top with 1 avocado slice in a diagonal manner (top of the slice pointing to the top left of the nori sheet). Top with some of the shrimp mixture (if you get overzealous, you may overstuff, so go light at first). It should look somewhat like this: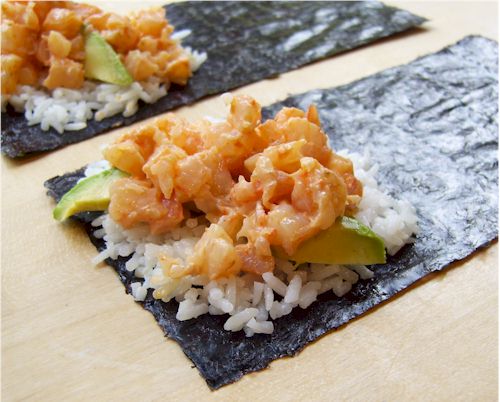 Now starting with the lower left corner, roll the handroll, pressing firmly to make sure it is all in there. Getting the nori to stick to itself at the end of the roll doesn't always happen for me. I wet the seaweed a bit to help the cohesiveness, but I'm eating it, not trying to win styling awards, so I'm never a perfectionist.
Serve with tamari or soy sauce … and in my case, a big side of steamed broccoli.